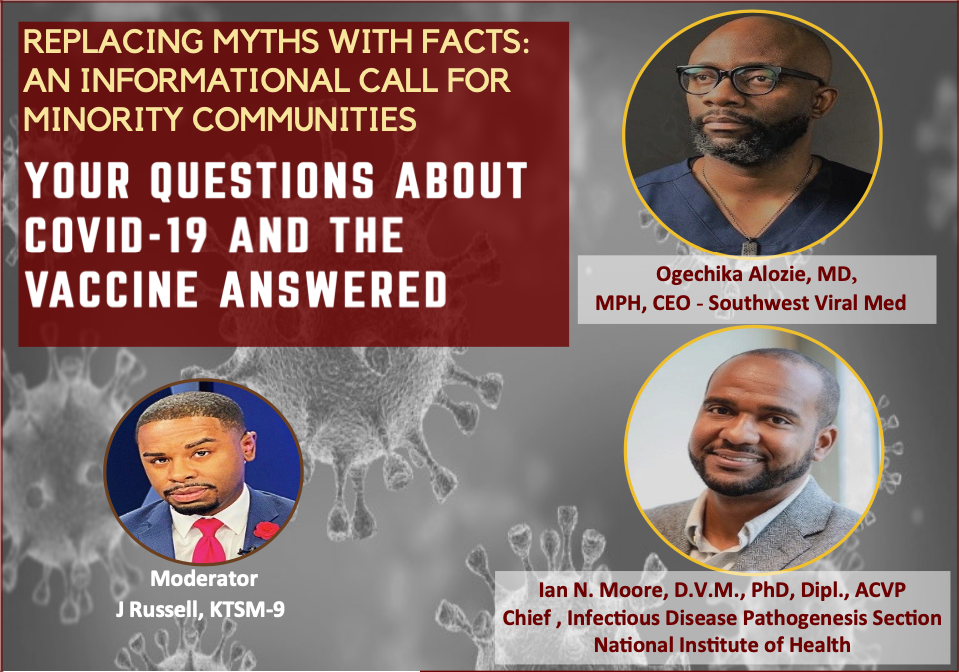 Replacing Myths with Facts: An Informational Call for Minority Communities:
Your Questions About COVID-19 and the Vaccine Answered
Saturday, March 13, 2021. 11:00 AM MST
Join Dr. Ogechika Alozie, M.D., an infectious disease physician and member of the Texas Task Force on Infectious Disease Preparedness and Response, and Dr. Ian Moore, PhD, Chief of Infectious Disease Pathogenesis Section at the National Institute of Health, who recently conducted preclinical safety and efficacy trials for the Moderna vaccine, as they share their experience and expertise on COVID-19 and the vaccine. This informational call will provide a safe and open forum for minority communities, as well as the opportunity to ask all of your COVID-related questions.
This event may also be viewed on Facebook Live at https://www.facebook.com/mzbcep/.
Facebook Live is view only and does not allow interaction.
Sponsored by: